The Abandoned Museum of Elmore

Known Occupants

3D Cube Employee, unnamed workers

Debut

Times visited

1 time
The
Abandoned Museum of Elmore
is a museum located in Elmore from
The Building
. The museum was very old, and was scheduled for demolition. It was being destroyed before Gumball, Darwin and their friends attempted to stop it. The museum has many exhibits, such as the egyptian exhibit. The museum also showcases the remains of
Tina Rex's great grandfather
.
Demolition
For unknown reasons (possibly age), the museum was scheduled for demolition by the 3D cube employee. As it was being destroyed, Gumball and his friends spotted them and went into a small "war" to stop it. The result of the war was disasterous, and the museum was wrecked beyond repair.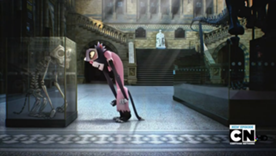 Ad blocker interference detected!
Wikia is a free-to-use site that makes money from advertising. We have a modified experience for viewers using ad blockers

Wikia is not accessible if you've made further modifications. Remove the custom ad blocker rule(s) and the page will load as expected.