Derek Simmons is the National Security Advisor of the United States, and is a assistant to Mei Szing in the movie The Amazing World of Gumball.  He works for Neo-Umbrella and secretly destroyed Umbrella II Corporation.
Derek was also responsible for the destruction and bombing of Raccoon City, and bombed part of Bejiing, China.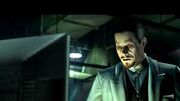 Ad blocker interference detected!
Wikia is a free-to-use site that makes money from advertising. We have a modified experience for viewers using ad blockers

Wikia is not accessible if you've made further modifications. Remove the custom ad blocker rule(s) and the page will load as expected.