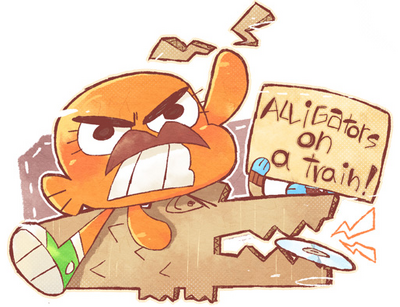 Sullvan Dog has problems.
Characters
Trivia
He proves to be a flashback.
Sullvan finally got revenge on Penny after these episodes.
He is Qid (Though he did scare her.)
The Key
In the second flashback, Sullvan was voiced by Tom Kenny.
23rd time Felix Dog dosen't appear.
Plot
Creat by :Users of wikia
(At home.)
Gumball: Hey Darwin, do you thing Sullvan has problems?
Darwin: (Thinks.)
(Shows flashback.)
Darwin: (Wearing giant ice jewels.) Dude are you sure about this?
Sullvan: Yeup!
Darwin: You sure?
Sullvan: Nyyyope!
(Pushes Darwin down the stairs.)
Darwin: AAAAAAAAAAAAAAAAAAAAAAAAAAAHHHHHHHHHHHHHHHH!!!!!!!!!!!!!!!!!!!!!!!!!!!!!!!!!!!!!!!!!!!!!!!!!!
Sullvan:..................................
(Cuts to next scene.)
Sullvan: (About to blow a tuba into Penny's ear.) Hey Penny!
Penny: Huh?
Sullvan: Ever heard of the girl that lost to a boy?
Penny: No....
Sullvan: WELL IT GOES LIKE THIS!!! (About to blow the tuba into Penny's ear but it gets cut.)
(Cuts to next scene.)
Maddie: Pucker up, sugar lips! (About to kiss Gumball as he braces himself while Sullvan is walking bye and he sees her.)
Sullvan: Hey! A cat!!! GGGGGGGGGGGGGGGGGGGGGGGRRRRRRRRRRRRRRR!!!!!!!!!!!!!!!!!!!!!!!!!!!!!!!!
Maddie: Uh oh........
(Flashbacks end.)
Darwin: Uh.........No!
John: I doubt that!
Ad blocker interference detected!
Wikia is a free-to-use site that makes money from advertising. We have a modified experience for viewers using ad blockers

Wikia is not accessible if you've made further modifications. Remove the custom ad blocker rule(s) and the page will load as expected.